Bhupendra Steels Pvt. Ltd. » Steel Castings
Steel Castings
Engineering
We use CAD/ CAM and simulation of solidification in developing methods. During simulation three stages are checked: filling, Solidification & Stress levels during cooling. This is to produce the castings right first time enabling shorter deliveries and helping customer in faster product development.


Melting


Ladle Pre-heaters
Ladles with capacity from 08 ton to 25 ton.
Immersion type pyrometer for temperature control.
Method of pouring:- Bottom pouring.
Scrap & other melting components of the highest quality are used.
We have 2X10T Induction furnaces. For secondary refining and to produce high quality alloy and stainless steel, we have one 20T Ladle Refining Furnace and one 12T A.O.D. Converter. Micro alloying is done through wire feeder. We have cranes up to 50T.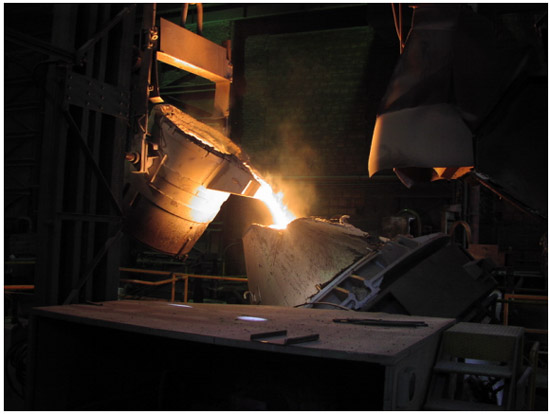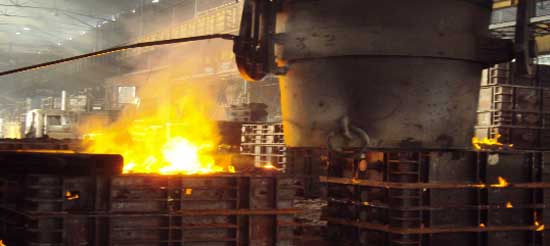 Pattern
We use patterns in Wood, Polysterene and Aluminum. These are made in house and through dedicated suppliers. We use computer aided design in pattern making we have a separate pattern storage area …600 m2.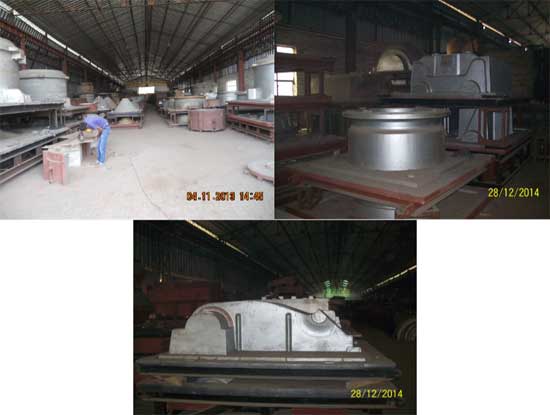 Moulding
We use alkaline phenolic sand system employing 20T per hour and 10T per hour Continuous Mixers. We use fresh sand in the facing. Sand is regenerated through mechanized system for backing applications.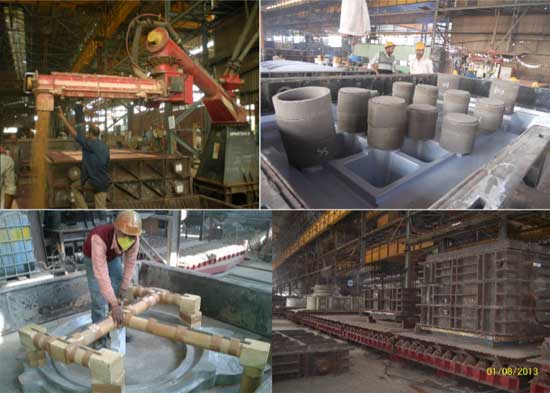 Heat Treatment
Normalizing, Annealing, and Stress Relief Furnaces with time and temperature controller, recorder & Gas fired 4m x 4m x 2m ; 8m x 6m x 3m; 6m x 6m x 2.5m (Under Construction)


Water & Polymer Quenching Tanks
6m x 6m x 3m


Fettling
We have Hanger Type Shot Blast Machine Size:- 3M x 3M x 2M - 01 No.

Size:- 4M x 4M x 6M – 01 No. (under fabrication)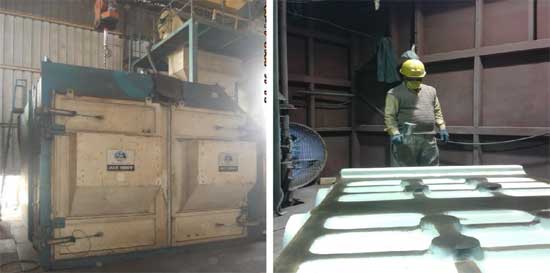 Painting Room
Size:- 5M x 5M x 3M – 01 No.
Machine Shop


CNC Vertical machining centre
(Max Size 3.2 X 2.75 X 1.3 m)
6 Nos.
Plano Miller 2 heads
2 No.
CNC Horizontal Boring Machine
(Max size Dia 200mm length 5.0mm)
3 Nos.
Radial Drills
(Max Size 65mm arm length 2.75m)
5 Nos.
Vertical Boring Machine
(Up to 6.8 m Dia)
15 Nos.
And many more small machines.